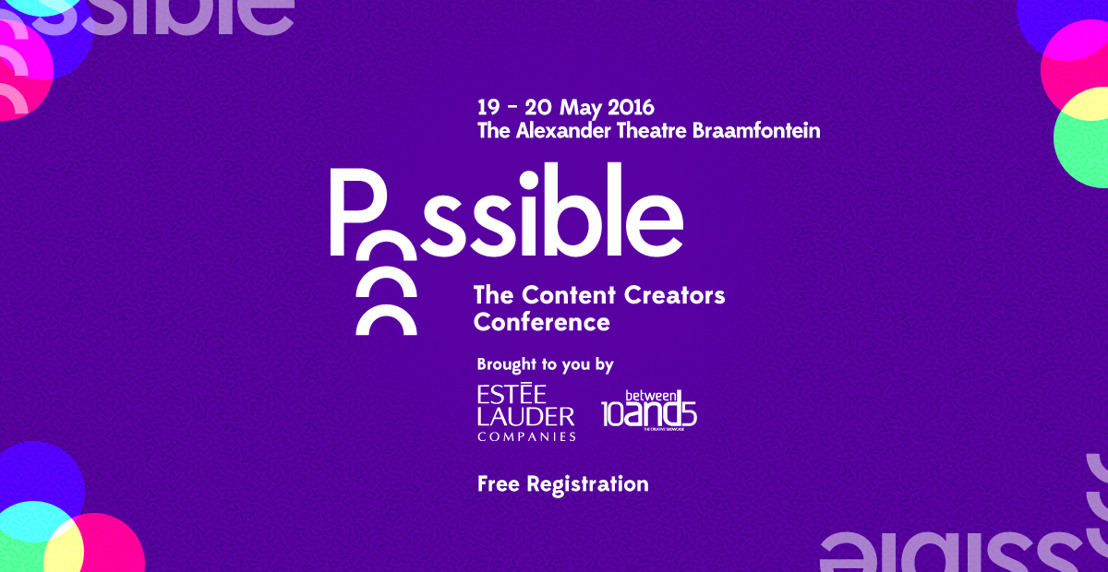 Introducing a New Conference Concept To The Jozi Calendar
INTRODUCING A NEW CONFERENCE CONCEPT TO THE JOZI CALENDAR
Thursday, May 5, 2016 — The inaugural Possible Content Creators Conference will bring together the leading bloggers, influencers and digital content producers of the moment to share their expertise and experience to inspire the next generation of lifestyle content creators
Over two days of talks, master classes, networking sessions and activities, up and coming content creators will gain practical and important skills to hone their craft, develop their voice and grow their audience.
The Possible Conference is FREE TO ATTEND and will take place on the 19th and 20th May 2016 at the Alex Theatre in Braamfontein.
Future content mavens can register to attend by uploading or sharing an example of digital creative lifestyle content that they have produced to secure their spot at the conference.
With an inspiring list of speakers and mentors, the Possible Conference aims to assist a new wave of talent to break into the professional content creation industry.
Uno de Waal, publisher of creative showcase site Between 10and5, says that "Possible is a potential game changer in the content creation industry for young people looking to make a name for themselves. We hope it energises the community and builds networks of new emerging talent."
Between 10and5 is co-hosting the conference with global leader in prestige beauty, Estée Lauder Companies.
Estée Lauder Companies strongly believes in the importance of local content collaborations, and strives to ensure unique storytelling opportunities are created via local partnerships.
Whether via branded content production with local publishers, or local influencer collaborations with well-known South African talent such as songstress Lira for Bobbi Brown, or actress Jessica Nkosi for Clinique, Estée Lauder Companies South Africa leads the way in content and influencer marketing.
The company also continuously seek new, young and talented individuals to develop new collaborations with: local photographers & bloggers such as Amy Scheepers, Niquita Bento, Lebo Lukewarm, Lulama Wolf and Trevor Stuurman are an example of just a few of the local creatives and content producers that Estée Lauder Companies has, and will, collaborate with on digital content campaigns.
The Possible Content Creators Conference is a product of the commitment Estée Lauder Companies South Africa has made to seek, support and promote new talent – and help young content producers in their creative journey.
For more information and to register to attend the Possible Content Creators Conference go to: www.possibleconference.com
Speakers will be released in the countdown to the event.
Hashtag: #PossibleConference
_________________________________________________________________________________________
About Between 10and5
Between 10and5 is a media company that publishes a daily art, culture and design online publication covering the South African creative industry. We also produce award-winning native content for brands including Estée Lauder Companies, Nando's, Glenfiddich, adidas and many others. For more information visit 10and5.com
About Estée Lauder Companies
The Estée Lauder Companies Inc. is one of the world's leading manufacturers and marketers of quality skin care, makeup, fragrance and hair care products. Founded in 1946, this technologically advanced, digitally innovative company has gained a worldwide reputation for elegance, luxury and superior quality.
Estée Lauder Companies enjoys one of the largest online and Social Media communities in South Africa, and is a leading content marketing and ecommerce organisation.
Estée Lauder Companies South Africa's is managing the following portfolio of brands:
Estée Lauder, Tom Ford Beauty, MAC Cosmetics, Clinique, Bobbi Brown Cosmetics, Smashbox Cosmetics, La Mer, Jo Malone, Aramis, Michael Kors Fragrances, DKNY Fragrances, Tommy Hillfiger Fragrances, Zegna, Lab Series, and more...
For more information visit: http://www.elccareers.co.za/ or http://www.linkedin.com/company/estee-lauder-companies-south-africa
For more information, please contact Danielle Pugin [email protected] or Uno de Waal [email protected]